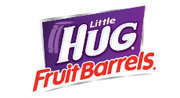 Little Hug Fruit Barrels
is a brand of soft drink manufactured by American Beverage Corporation, a subsidiary of Royal Wessanen. The drink is bottled in plastic 10-ounce barrel-shaped bottles with foil caps. It is also available in 16-ounce bottles with sports caps as Big Hug.
MattyB made a sweepstake with the brand called "Back to School with MattyB Sweepstakes" on August 8, 2013. The winners of the event will be reward with a "Meet&Greet" with MattyB, which consist in a fly with a parent to New York City in a "great" hotel room where they will meet, lunch and go to shopping with MattyB. To enter the sweepstake, the participant must enter at a Little Hug website page.